Boost Coupon, The First HYP Application Scenario Is Launched! Use Boost to Boost!
Dear users,
The latest version of HyperPay APP 3.9.15 has been released, bringing you the exciting news: HPY has had its first application scenario, Boost Coupon. More application scenarios are constantly being expanded. At present, HPY has supported bi-exchange with USDT stablecoin at any time, and more mainstream currencies in the future. HPY integrates transaction value and use value, and it has an immeasurably broad prospect.
In order to offer better investment experience by actually increasing the rewards, HyperPay has launched the latest version of 3.9.15 with Boost Coupon function on Dec 23. By using the Coupon, the investment will produce additional interests except for the basic interests, thus you can get more interests!
For example: 5000 USDT fixed-term investment of 30 days has the basic interest rate referring to 11%, so its basic interests is 5000*11%/360*30=45.83USDT. Then you use one +10% USDT Coupon, the additional interests will be 5000*10%/360*30=41.66USDT, which means you will get total interests of 45.83+41.66=87.49USDT.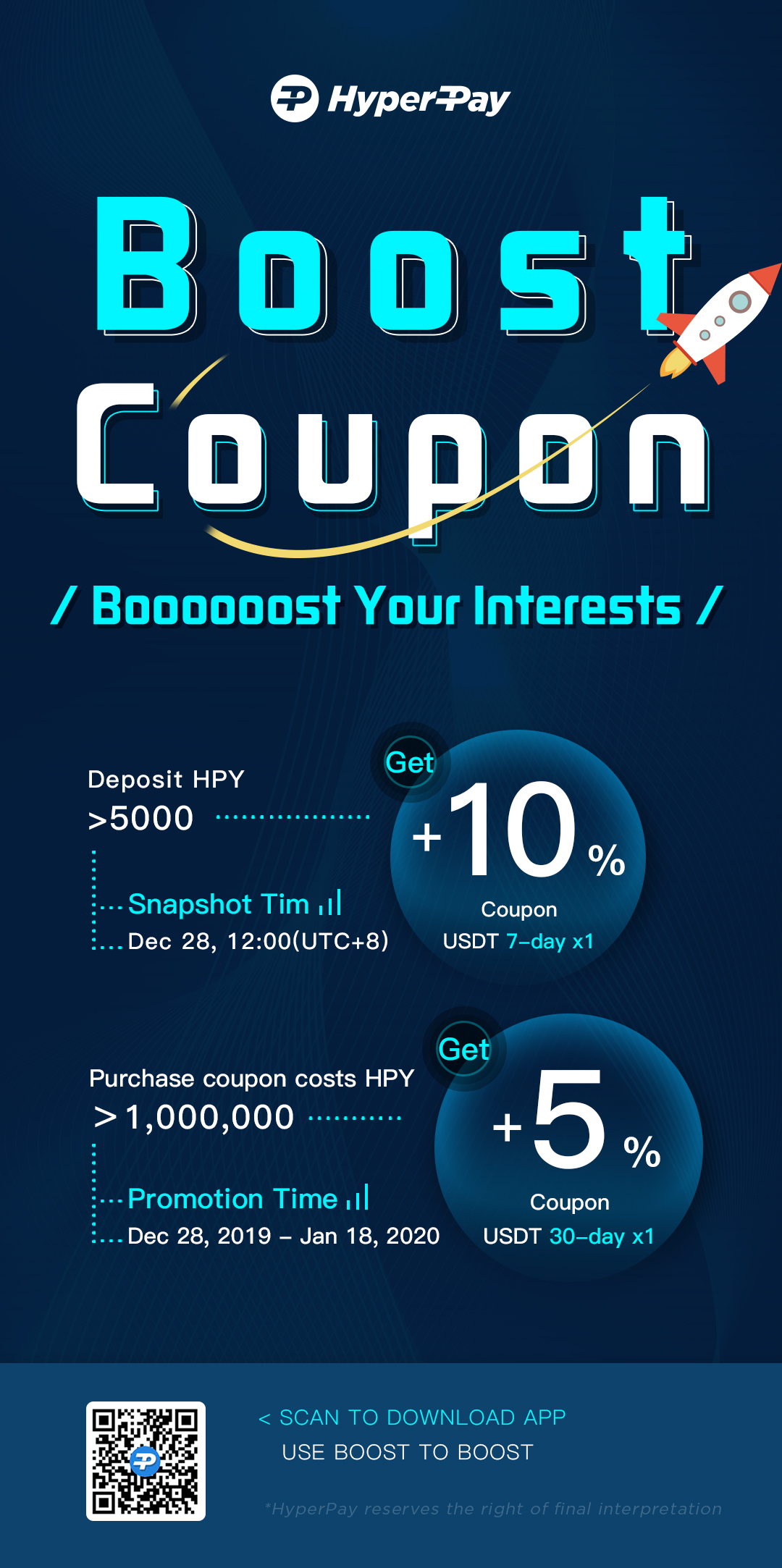 We are going to introduce the purchase and use of Coupon to help you know how to use the function, and we also organize promotion to distribute benefits:
[Purchase and Use]
1. Click Boost Coupon button on the homepage to get into the Coupon Store.
2. Select the coupon which you want to buy and pay it in HPY.
3. Select the investment products within the usage range of Boost Coupon, like fixed-term investment products or staking products, and pay it after check the Coupon. Then the interests begin to bear the same time.
[Use Rules]
1. Boost coupon can only be applied for the certain currency's investment product;
2. Boost coupon can only be used once and cannot be used in conjunction with each other;
3. Boost coupon has valid period and can only be used within the period;
4. If the Boost period is longer than the product's investment period, the investment period prevails and the rest Boost period becomes invalid;
5. Once the Boost coupon is used, it will take effect immediatly and cannot be revoked.
[Promotions]
First: 7-day +10% USDT Boost Coupon
Rule: Deposit HPY>5000, get one 7-day +10% USDT Coupon
Snapshot Time: Dec 28, 12:00(UTC+8)
Distribution: The Coupon will be issued to your account on Dec 30
Second: 30-day +5% USDT Boost Coupon
Time: Dec 28, 2019 - Jan 18, 2020
Rule: Purchase coupon costs HPY>1,000,000, get one 30-day +5% USDT Coupon
Distribution: The Coupon will be issued to your account on Jan 19, 2020