Dear users:
On Feb 15, 2018, the HyperPay 1.0 version was officially launched, and today is the day it comes to its 2nd anniversary! Since its launch, HyperPay has been accompanied by many sweet users, new and old. In order to thank you for your strong support for HyperPay for a long time, we launched the "Grab 1BTC Red Packet and Divide 1000HC" activity from Feb 15, 2020 to Mar 15, 2020.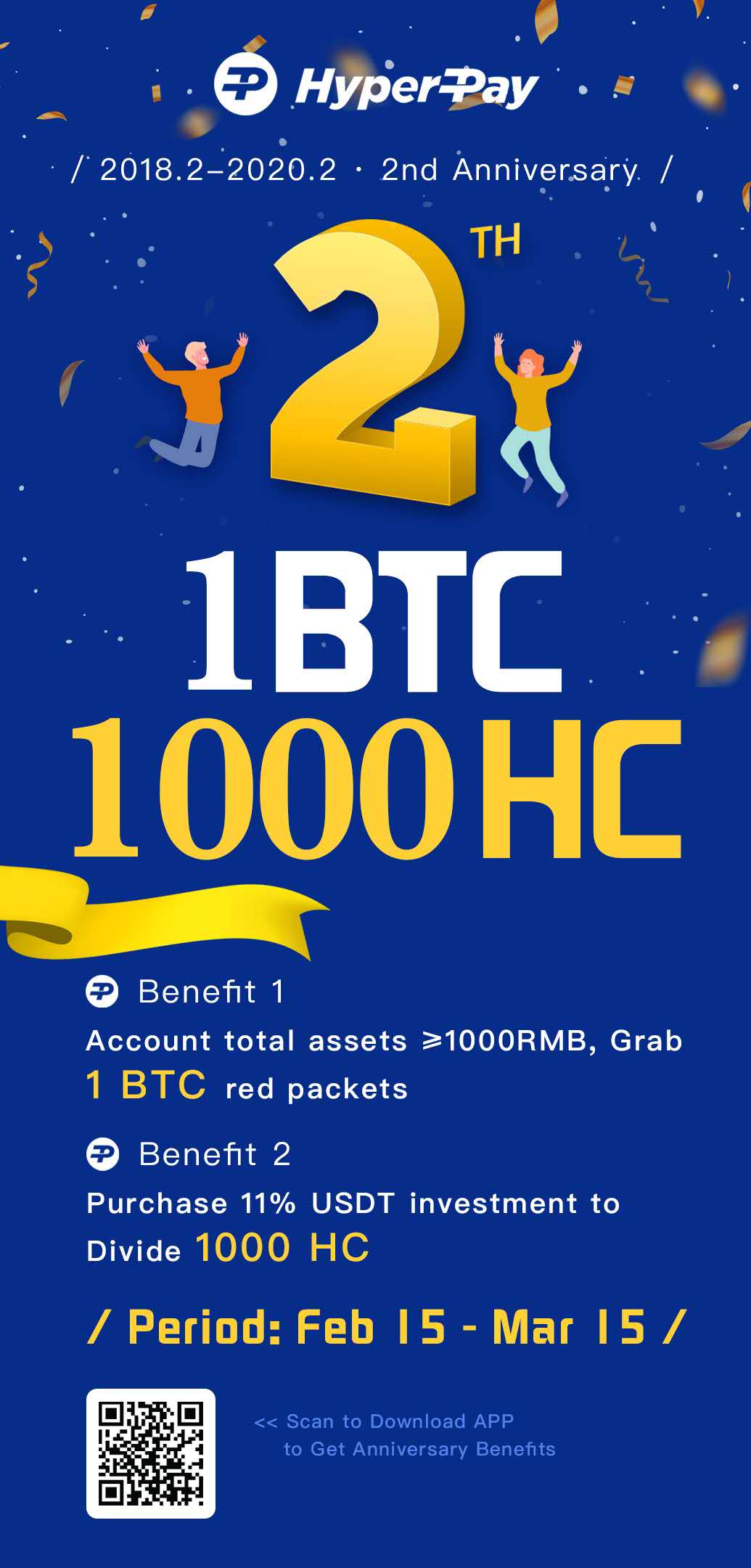 Benefit 1: Grab 1BTC Red Packet
Grabbing time: Feb 15, 20: 00-21: 00,
Eligibility: Account total assets ≥1000RMB
Participation method: Click on the Red Packet floating window on the homepage to participate in grabbing 1 BTC red packets.
Benefit 2: Divide 1000HC
Time: Feb 15-Mar 15
Divide HC based on the total purchase amount of 11% annualized rate USDT investment. See the table below for details:
| | |
| --- | --- |
| Purchased Amount | HC for Division |
| ≥3000USDT | 700HC |
| <3000USDT | 300HC |
Dividing formula: reward = my total purchase amount / total purchase amount of all users * rewards that can be divided.
Reward distribution: Reward will be issued to the wallet balance within 3 days after the event ends.
Example:
A spends 2000USDT on Feb 15 to buy an annualized rate of 11% USDT investment, and on Feb 25, he spends 4000USDT to buy an annualized rate of 11% USDT investment. At the end of the event, he can take part in the 700HC division.